Happy Monday people.  It is truly a beautiful day in the neighborhood.  The NFL started this weekend with some really big games.  Shout out to RGIIII, the only rookie to start and win his game on Sunday!  Today I'm setting my sights on NYC, Flushing Queens actually.  The Arthur Ashe Stadium.  The Finals for the U.S. Open.  (1) Victoria Azarenka vs (4) Serena Williams.

I'm going to put this out there first…I am not a tennis fan by a long shot…but I am a Venus and Serena  Williams fan.  If they are in a major, I'm watching.  It's my way of showing support for these astounding sisters.   Just so you know, up until yesterday, Serena has won 14 Singles Grand Slams titles, 13 Doubles Grand Slams titles with her sister Venus, and an Olympic gold medal this past summer.
The number 1 ranked woman in the world, Victoria Azarenka, just won the Australian Open  back in January.  Both Serena and Victoria had easy times getting to face each other in the finals.  Commentators Mary Carillo and John McEnroe both commented when the ladies came out that it surprised them that Serena came out first as the lower seed even though she was the overwhelming favorite to win the match.   In the first set Serena showed why everyone thought she would win the U.S. Open title for the fourth time in her career, at the age of 30.  She won the set 6-2 in a little over an hour of play.  The second set Azarenka showed why she was number 1 in the world.  She kept Serena moving and forcing Serena to make more mistakes in this match than she had made all tournament.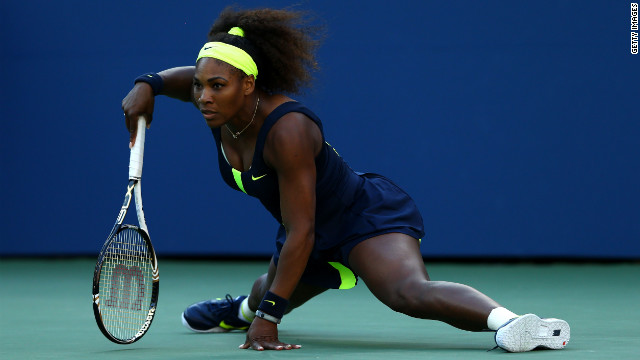 Set number 3 was must see t.v.  Victoria went up 2-0 with swift ball movement and Serena continuing to make unforced errors and double faulting during her serve.  Azarenka went up 5-4 then Serena went H.A.M.  Serena went on to win 10 of the next 12 points with blistering serves and well placed back hands.  The match ended with Serena returning Azarenka's serve and Azarenka hitting her shot long.  Serena put her hands up in surprise and fell flat on her back.
This is my problem.  This tournament is held in Queens.  One of the Five Boroughs.  In the state of NY.  IN THE UNITED STATES OF AMERICA!  Why were there all these cheers for Victoria Azarenka?  Azarenka is from Belarus; bordered by Russia, Poland, Ukraine, Latvia and Lithuania.  There are 8 million people in Belarus; NYC has 18.9 million people!  Where are all these cheers for Azarenka coming from?  Andy Murray is from Great Britain and you better believe NOBODY is getting a cheer from the crowd at Wimbledon when he's on the court except him!  Are there enough people from Eastern European countries in the U.S.  to make a respectable cheering section for Azarenka?  Is there William Sisters Fatigue?    Are people tired of seeing them dominate the women's tour the way they have for over a decade or is it something more nefarious?  Do the mostly white tennis fans prefer to see a white person win regardless of nation affiliation?  All I know is this: Serena Williams is arguably the greatest women's tennis player ever to pick up a racket and I dare you to disagree.
"Like" us on Facebook——-> MindBender Entertainment
Follow us on Twitter——–> @MindBenderEnt